Castrum Olibani: a castle from the early middle ages in the municipality of Olevano sul Tusciano
Entrance of the central area of Castrum Olibani
Among the countless beautiful trekking excursion you can chose, starting from La Morella, the one to the so-called "Castrum Olibani"  (Olevano Castle) is certainly among the shortest. 2,5 hours, are in fact enough for the whole tour, including the car trip. Having some extra time is anyway advisable, is you want to enjoy at best the landscape and the appreciate the archaeological and historical aspects.
The Castle was build by Longobards, a population dominating wide parts of Italy in the early middle age. Some information, in Italian, about the castle, is available on the internet. We suggest e.g. this website and this video.
View from the mountain pass leading from Salitto to the Tusciano Valley
The "Cannabosto Sanctuary".
Proceeding beyond the Sanctuary, that is typical closed to visitors, follow a mountain – mostly unpaved – road. A four-wheel car would be preferred, but with a careful drive a regular car will do the job. The street conditions are not constant with time, since maintenance works are not frequent. At the time this text is written (June 2018), the road is in fairly good conditions. In case you feel driving is getting difficult or unsafe, just park the car where possible and go ahead walking up the same road.
You will finally get to the entrance of a picnic area enclosed by a fence. We suggest you park you car (if you have been driving so far) at the small parking before the entrance. The GPS coordinates are 40.667371,15.024606
Entrance of the picnic area. You can see the first of a series of signs dedicated to the castle. 
We suggest you park your car here
After parking your car, walk down a few tens of meters, and walk along the wooden fence shown in the picture, delimiting the left side of a small pine forest. At the end, keep walking grossly in the same direction until you find the Sign n. 3, with GPS coordinates  40.667942,15.025653. Follow the map shown on Sign n. 3 and walk up towards Sign n. 5 and finally towards Sing n. 6 with GPS coordinates 40.667759,15.025679.
Wooden fence you should follow on the way to the Castle.
Sign number 3, with its map.
Sign number 6, with its map.
Following the path further, in direction NE, you will enter a grove you will need to go across it. On the other side, you will find yourself in a wide inclined meadow.  Here you will have a beautiful view on the core of the Castle, placed on the top of a hill, as shown in the first picture in the upper part of this page. Climb up the hill following the path until you enter the castle through an  arch, its original entrance. Moving a few steps forward, you will see the interior of the castle and a magnificent view on the Tusciano Valley. Some pictures are shown below.
Entrance of the castle. GPS: 40.6687, 15.0274 
Landscape on the Tusciano Valley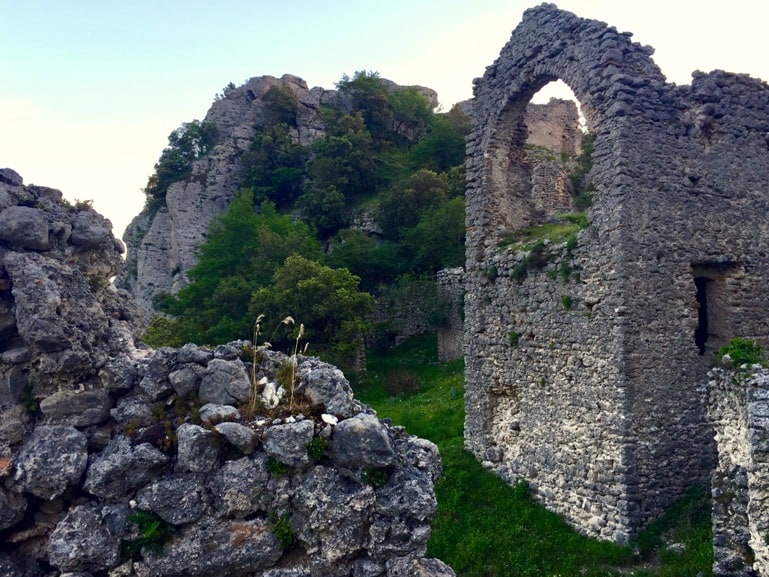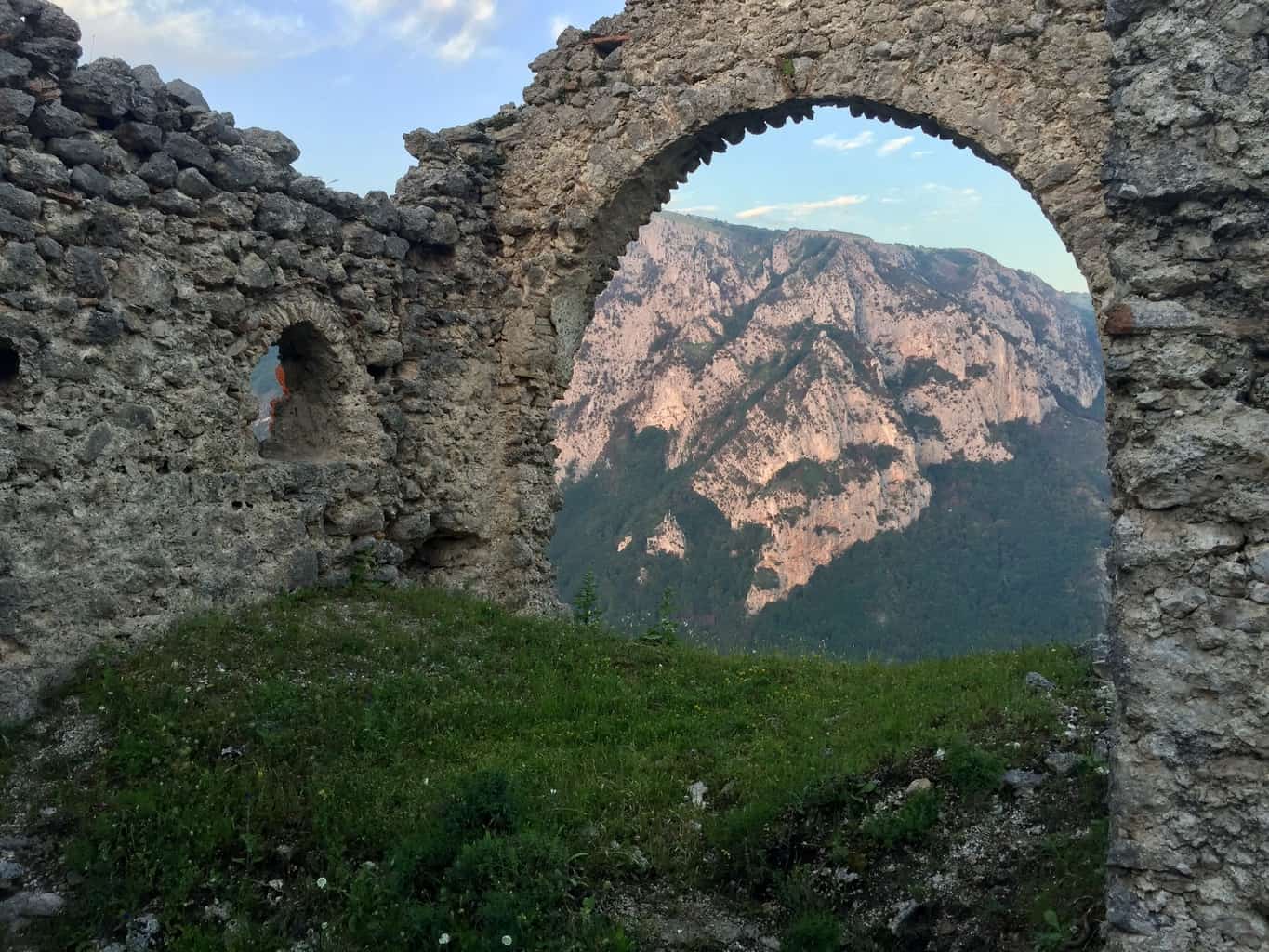 The interior of the castle: arches and other details