Masseria La Morella is ideal for a week away to discover
the beautiful landscapes that surround it
If you want to find a place where you can relax with your family, you can go into Masseria La Morella. In our gardens all family can yo'll enjoy with the structure of farmhouse, like our pool. We'll help you to discover all places right for your family also.
Farmhouse for families in Campania
La Morella will be your ideal choice for a weekend out of town  or for a week's discovery of nearby places. However, if you do not want to go to the beaches located around, next to the farmhouse, you can relax at the edge of our large pool, swimming, sunning, reading or simply enjoying for a few days the silence of the countryside. Along with our swimming pool (from 1.20 m to 2.5 m depth, with diving board), a large flower wooded garden is available to our guests who want to relax walking along with a good book or with a few friends. If you want to go to sea, you can use our beach.
The activities of our farmhouse for families
Around the pool, you will find umbrellas and sun beds. Alternatively, you can rest under the natural shade of the trees which is particularly pleasant on hot summer days. Our farmhouse welcomes every year many families who prefer to spend their holiday in the countryside, surrounded by nature and, why not, by animals! If you  walk along our gardens, you will meet our donkeys, goats and a cute bunny.
Just 10 minutes away from Morella you can find 2 water parks suitable for the whole family. Slides, inflatable donuts, wave pool, pirate galleon, are just some of the attractions of the water parks "Aquafarm" and "Isola Verde" that you can reach with your family for a day of fun. For more information you can ask at reception, even before booking your holiday at Morella, we will be happy to inform you about opening hours and ticket costs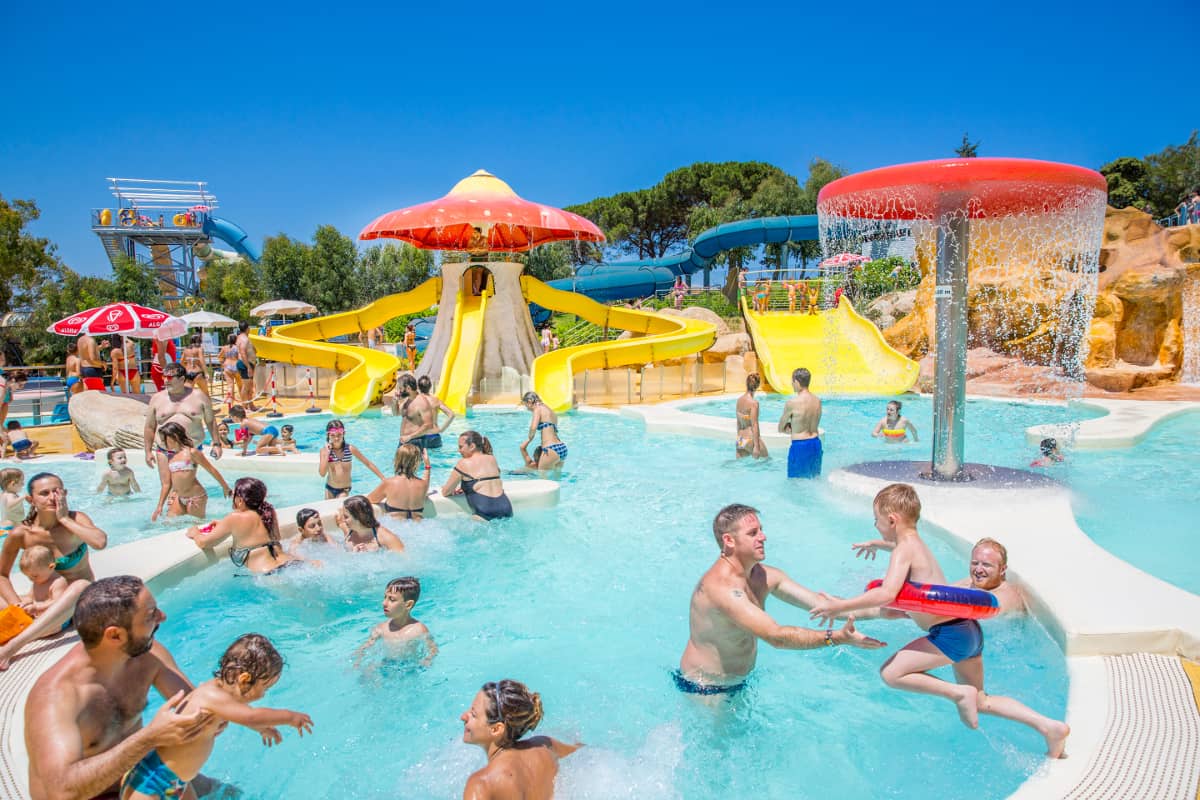 The beach is the ideal place to spend a day, or half a day at the beach with a short car drive. The beach, in fact, can be reached in about 10 minutes by car. At the reception of our farm you can get all the information you need toget to the beach. For bookings of one week or more (both apartments and rooms) you can pick 1 free pass to access the beach. The beach will be open from 1 June to 15 September.
We can also suggest other beaches suitable for the family, for example with sand or rocks if you like snorkeling.
Family and kids tours
We can book for you certainly the best archaeologists-guides for your once in a lifetime tour in the Campania Region (Pompeii, Herculaneum,Amalfi and Capri). We assist our clients with private tours and transportation; we offer walking tours, pre-arranged packages and customized excursions based on your needs and wishes. Do not hesitate to contact us to organize your family tour, we know guides who are able to tell the story of Pompeii and Herculaneum also to your children. It will be a wonderful experience.
Giffoni International Film Festival
Is one of the most well-known children's film festivals in the world. It takes place in the small Italian town of Giffoni Valle Piana in Campania, just 20 minutes far from our agriturismo. Started in 1971 every year over 2,000 children attend the festival from several countries around the world. During the festival, children and teenagers watch the movies, learn about the filmmaking process, and are called to judge them and award the best ones with prizes. This 44-year-old festival has had a great impact in the history of entertainment and culture, not only in Italy, and it has developed a high reputation internationally. Every year the festival attracts 100,000 guests, directors, producers, and movie stars annually. The festival has been brought to many different countries around the world with Poland, Argentina, Australia, Albania, China, Korea, India, and the United States having all hosted their own versions of the Giffoni Film Festival. The Giffoni Hollywood Film Festival in the United States has proven to be the biggest so far.
Rent a boat
Rent a boat in Castellabate to explore the Castellabate's bay! Have swims, snorkels and fun in the clear sea of Castellabate's bay, snorkel along the Punta Licosa's promontory and discover the old Roman ruins in the deept of the Licosa Island! The ruins of an old Roman Villa are clearly visible, you will notice the old tiles of the pavement! Amazing! All information are provide in our reception. We can also book for you.